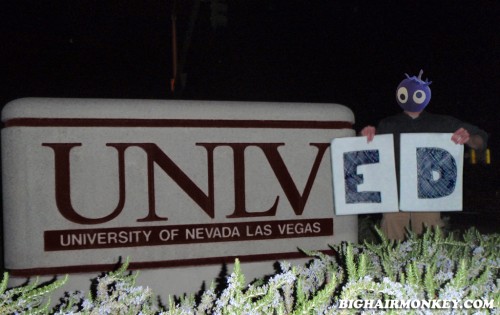 My mate Dredd is shipping out to Afghanistan for his second tour at the end of the month, so I tripped down to Las Vegas to spend a few weeks with him before he goes.  Since the ONLY perk of my job is the ability to work remotely (paycheques should NEVER be classified as "perks"…), I intend to use it for all it's worth!
He was taking my photo by this UNLV sign when I thought of this idea, and we stormed a nearby coffee shop that was still open to "borrow" paper and sharpies from the students and patrons to make our sign.  Butcher paper used to wrap coffee mugs as gifts and half a dozen sharpies from various students and "VOILA!"  – Dredd's posing for a "classic" bighairmonkey Valentine's day card!
Meanwhile, to continue on with the anti-Valentine's feel of things, I leave you with Cartel's awesome yet completely depressing song, "Wasted" (after driving around Vegas for hours on end listening/singing/screaming to their album, we have found that no official video has been made or released yet for this song!  Why is that??!).  Cartel is touring in March/April!  w00t!
You can pick your friends, the music you listen to, the books you read, the movies you see and the things you do!  You are, in fact, a mashup of what you choose to let into your life.  You're the sum of your influences and experiences!  So I'm here.
~ bighairmonkey paraphrasing Austin Kleon