Archive for the 'Social Stimulus' Category
Monday, April 15th, 2013
Throughout my life, the kitchen has long been the centre of socializing in my family.  As a kid, we rarely asked if friends could eat over – anyone that was there at mealtime got fed.  Long road trips to visit my parents that ended at 1 or 2am would usually also end with the fragrant smells of something delicious wafting from a warm kitchen.  Eggs, bacon and pancakes for dinner or apple pie for breakfast, what we ate wasn't always dependent on the time of day.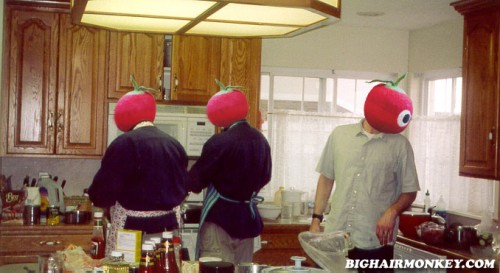 Pizza, though a long standing Italian treat, didn't hit the west coast of the US until the 1950's, when GI's, returning from World War II who had sampled the food in Italy, created a demand for it.  My dad, while dating my mum, worked at a California pizzeria called Big Al's and would often take an unclaimed pizza at the end of a late night shift over to the dorms where the women running the front desk were always willing to call my mum down to the lobby in exchange for some pizza.
So knowing these facts, it's not a surprise that pizza has been the "go to meal" of our family traditions.  Over the years, it's grown from a Friday night dinner to a full-on entertainment session – I still remember making pizzas one night with my dad and brothers using two ovens to turn out over 30 pizzas, each one different than the previous, and each one served hot to a waiting crowd of friends and family, packed in at my folks' house.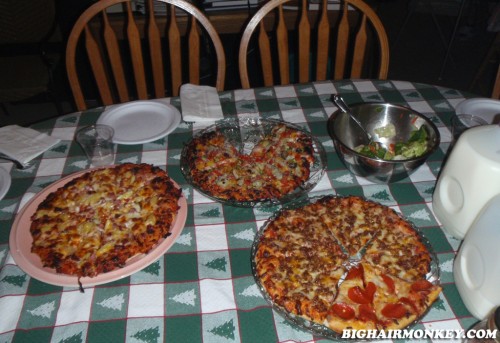 Over the years, my dad has streamlined the process, creating his own variation on the original dough recipe to ensure we can have pizza, from first thought to hot out of the oven, in under half an hour.  If you don't have a pizza stone, the baking process takes a bit longer (unless you like soft-crust pizza), and if you have your own family recipe for pizza sauce, that may also affect your time.  But for those that love pizza or are just looking to impress someone with their cooking abilities, I present my dad's quick and easy way to make pizza! (note: the quickest and fastest way really is smearing tomato paste on a toasted English Muffin.  But honestly, you're not going to impress someone as much as you are by making pizza dough from scratch and baking a pizza in less than half an hour!  Plus it tastes better…)
Oven Prep
The first step is the pizza stone.  At the first thought of pizza, crank up your oven to 550ºF (~290ºC), and place your pizza stone on the middle rack to warm up with the oven.  You'll want it to preheat for at least 20 minutes before you bake your pizza, but that's fine since it's going to take 10-20 minutes just to make the dough.  If you're not in a hurry, the optimal pizza is baked on a stone that has been in a 550ºF oven for half an hour before it's used (but be sure to decrease your cooking time).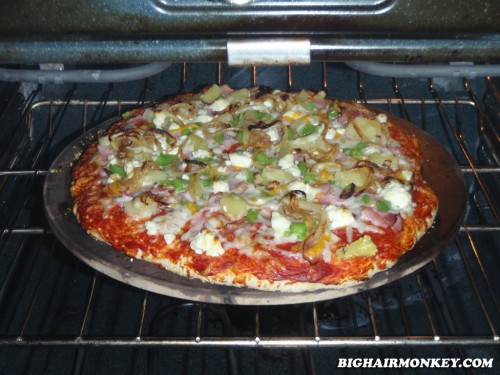 Pizza Dough
Bighairmonkey Sr's pizza dough recipe is streamlined for making pizza on short notice; for multiple batches when more people show up; and to be relatively easy for the cook to prepare:
5C flour
2Tbs dry yeast
2Tbs sugar
1 ½ tsp salt
2Tbs olive oil
2C hot out of the tap water
Put the dry ingredients in a food processor and turn it on (if you don't have a food processor, use a dough hook in your mixer, or mix it all by hand in a large bowl).  Add the oil, and slowly add the water, processing until the dough forms a ball (you may not need all the water).  Dump the dough (it will be soft and sticky) onto a floured board and knead it a couple of minutes until it becomes more elastic and less sticky.  Cover with a bowl or put in a greased bowl and cover with a towel.  Let it raise for 10-15 minutes (depending on how warm your environment is) or until it doubles in size.  Then punch it down, and roll it into pizza skins, either by hand or rolling pin.  Makes 2 large pizzas.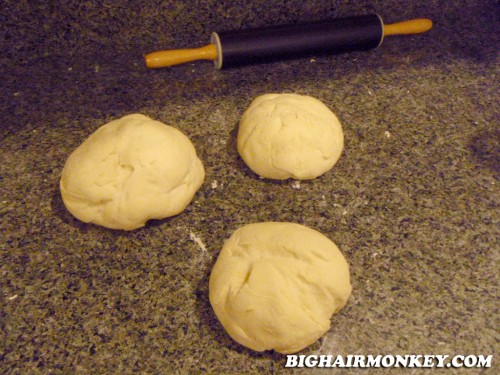 Pizza Sauce and toppings
The fastest option is an out of the can/jar pizza sauce.  My dad's pizza sauce was merely tomato paste, tomato sauce, salt, pepper, dried basil, and fresh garlic.  We have also used ranch dressing, olive oil, Alfredo sauce, BBQ sauce, sweet chili sauce, white sauce, teriyaki sauce, and naked (no sauce).  Try them all – decide for yourself what works best.
The classic American pizza is topped with grated mozzarella.  There are plenty of choices and combinations that give better flavor.  Provolone and cheddar are great to add to mozzarella, although the mozz should dominate (we usually run 4 parts mozz – 2 part prov – ½ part cheddar).  Pizzas in our past have also used parmesan, feta, gorgonzola, fontina, and various Swiss cheese types.  Again – try them all and decide for yourself (personally, I'm partial to feta – yum!).
Assembly
Our basic premise has always been as follows:
Roll out the dough (my dad would usually press it into shape by hand; roll it with the pin to enlarge the shape; and then throw it for the final sizing)
Hide the dough in sauce
Bury the sauce in cheese
Add toppings
In Australia, the cheese is put on last to hold everything in place once it's baked in the oven.  Both styles taste great!  I'm not going to go into details for toppings as anyone that has any basic knowledge of a pizza can come up with a pizza they enjoy.  However, once you get past your basic pizza knowledge, experimenting with toppings and sauces is essential!
Gorgonzola with walnut & pear
Blue cheese and caramelized onion with bacon & toasted pecans
Cream cheese, smoked salmon & leeks
Just to name a few of my dad's favourites!
After you roll out the pizza skin, transfer it to a baking paddle or thin baking sheet without an edge or lip that has been lightly coated in cornmeal (or cornflour).  Once you've assembled the pizza, you can slide it easily from the sheet onto the pizza stone in the oven without it sticking and dropping all your toppings onto the oven floor.
Bake at 550ºF for ~8 minutes.  This may vary depending on your sauce or toppings, so keep an eye on it after the 8 minute mark and decide if you need to bake it longer.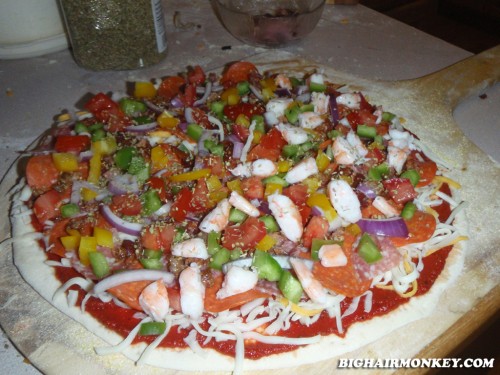 We have always baked more than is needed, resulting in cold pizza being one of our stapels for breakfast or lunch over the years.  This was not only based on the idea of the "feed who's here" principle mentioned earlier, but also on my dad's personal belief that you hadn't fixed enough food in the first place if a meal didn't have leftovers.
So there you have it!  Bighairmonkey's family recipe for quick, awesome pizza!  Make them tonight and impress someone with your pizza awesomeness!
Food for the body is not enough.  There must be food for the soul.
~ Dorothy Day

Good food is a global thing…
~ Jamie Oliver
Posted in bighairmonkey, Inspirational, Social Stimulus
Monday, April 1st, 2013
Dropping all blame at the feet of Tech Evangelist, Internet Nerd Legend and motivational blogger,  Joey deVilla, I recently lost the game once again.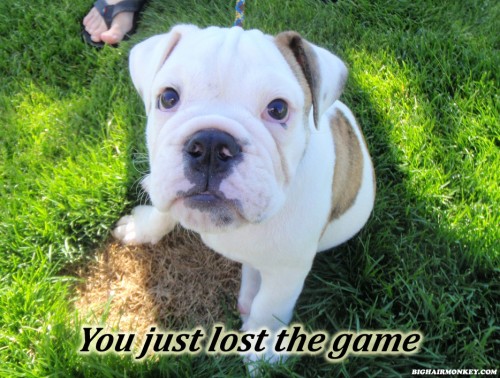 Easter and April Fool's Day coming together in one weekend was like the stars aligning perfectly for one brief moment, and the resulting flood of possibilities left me indecisive over my next project.
So ending the game for everyone else in one, sudden burst of internet babble seems perfect.
Damn you Accordion Guy…
Damn the game…
Posted in Other Monkeys, Social Stimulus
Friday, March 29th, 2013
Apologies for the short notice, but if you happen to be in the Provo, Utah area, students at BYU are already an hour into their attempt to break the record for the world's largest cardboard castle.  Volunteers and observers are welcome to join the event, hosted at Brigham Square on Campus.
Harvard University may not be the record holder for the first cardboard castle, but they definitely kicked things off in September 2011 when they went on record for their cardboard construction using 566 boxes.
BYU stepped up in February of last year, breaking Harvard's record with a build of 734 boxes.
University of Nevada, Las Vegas, broke that record almost immediately in April of 2012 with their 931 castle build, however, Harvard followed up later that year in September, smashing the record with a build of 1064 boxes.
Middlebury College, Vermont, has a claim to a 1130 box fort build, also made in September 2012, but I haven't found a site that has verified that count number other than this video of the finished product.
If you're interested in getting involved, you have only to show up as work is already underway and expected to take approximately 8 hours.  Furthermore, BYU has a tradition of building beautifully architected "castles" in their pursuit of the record, rather than merely stacking boxes into "forts" as seems to be the common way of breaking the record.  If you're going to go big, you should take the extra step of also going awesome!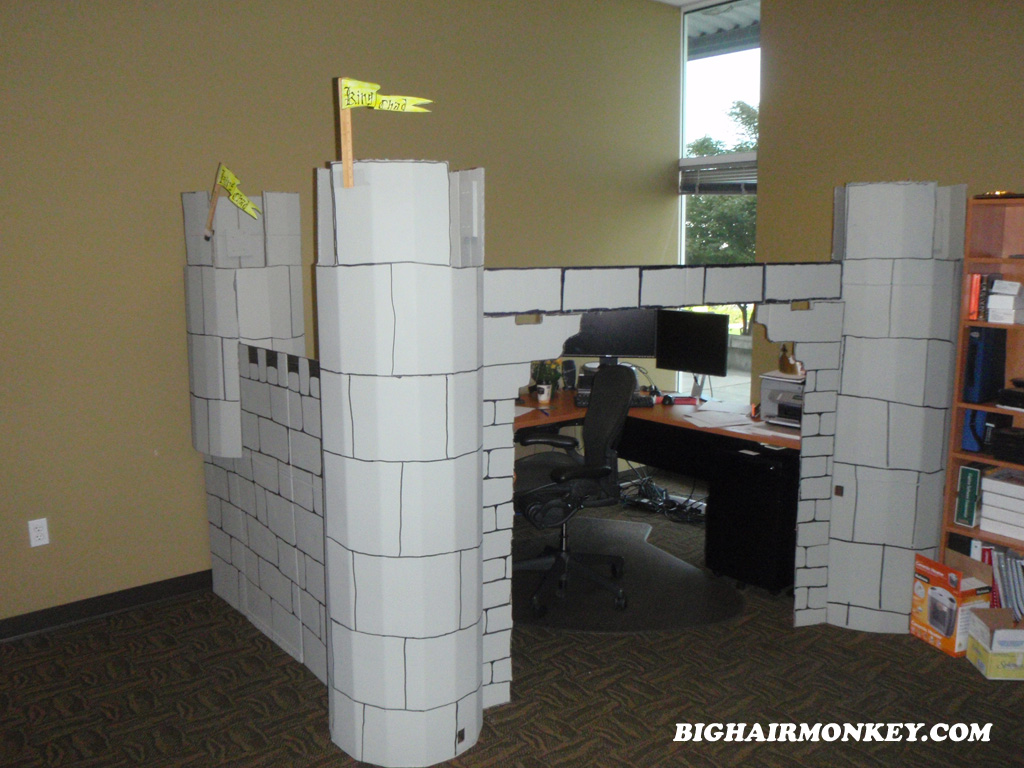 What better way to kick off your April Fool's Weekend?
Posted in Inspirational, Other Monkeys, Social Stimulus
Thursday, December 6th, 2012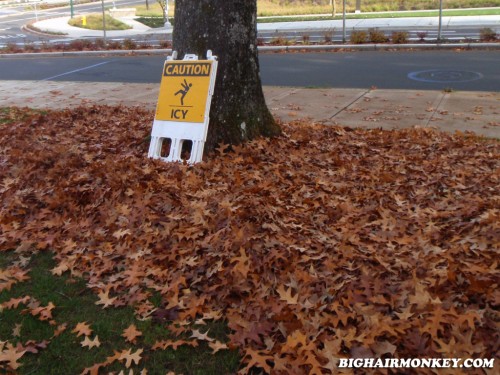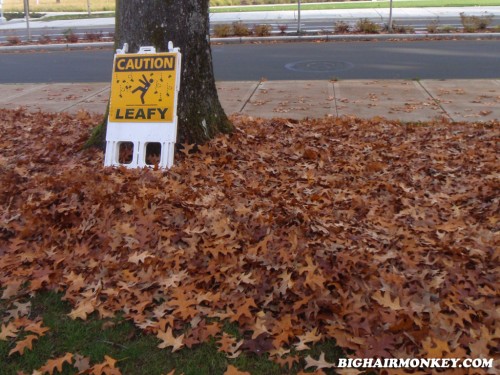 Leaves and their paths are done in electrical tape.  Leafy sign is printed on coloured construction paper – quicker solution for the area I was trying to fill.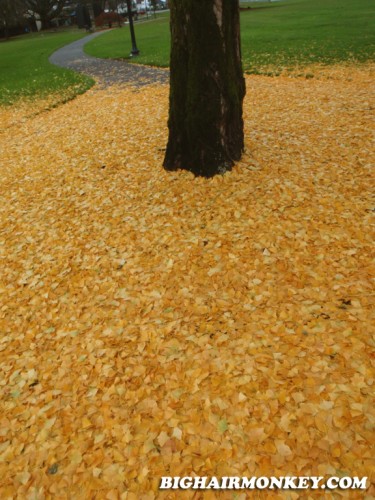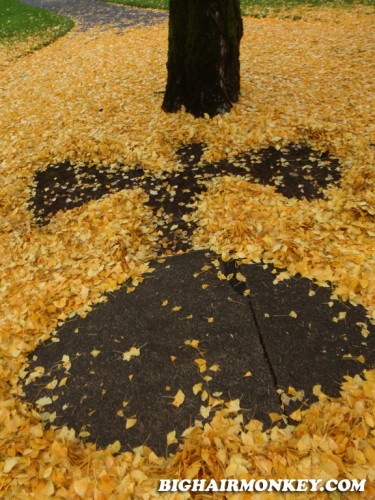 Roll on Winter.
Posted in Social Stimulus
Sunday, November 11th, 2012
If you're one of those people that needs to control every aspect of your life, your job, your friendships and relationships – grow roses.  These days, they cross breed roses so as to be able to control the colour, the size, the shape of the petals, the thorns on the stems and the fragrance.
Roses are for control freaks.
If you welcome (or at least acknowledge) the possible new experiences in your job or your life that comes from the friends you've chosen and the resulting chaos that often speeds past you, people & events out of your control that occasionally entangle you and carry you along in the headlong maelstrom of the moment, sunflowers are for you.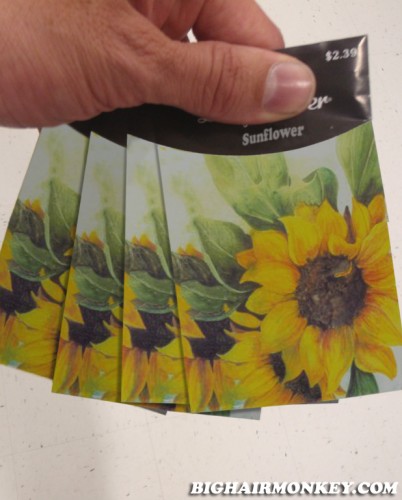 A couple months back, I spread handfuls of the seeds across town and various locations to which I traveled.  The results ranged from single flowers, fighting to grow only waist high, to massive bunches, growing higher than my head, that you could walk through and gather in a massive armfuls to drop in a pile at the feet of a friend.  And in some places,  nothing grew.
No uniformity.  Random chaotic results.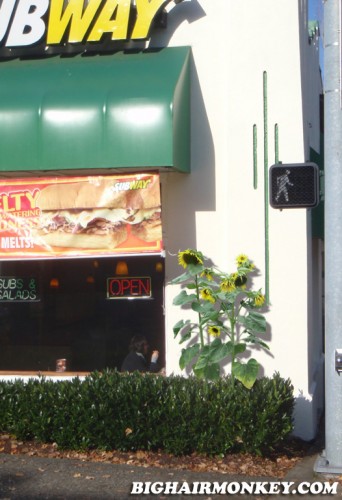 It always trips me out that November in the US is cold and foggy and the tail end of the vestiges of sunshine and Summer, while in Australia, Spring is ending and welcoming in that same Summer and sunshine – such contrasts that seem out of place only to those that have lived between the two.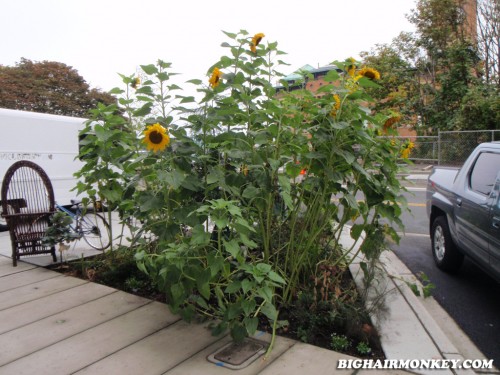 Some Autumns stretch long, carrying the occasional Summer day close to the Winter months, while other years, not a single day of warmth occurs during November as the Winter months rush forward.  Regardless – even when they don't happen when you want or expect, half way around the world during chill November months, the warmth of Australian Novembers are never forgotten.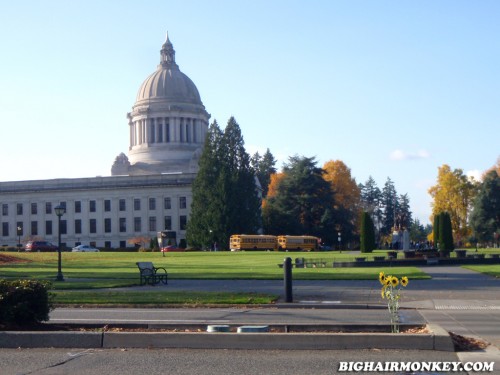 Sunflowers are for free spirits.
Posted in Social Stimulus
Monday, November 5th, 2012
(See what I did there?)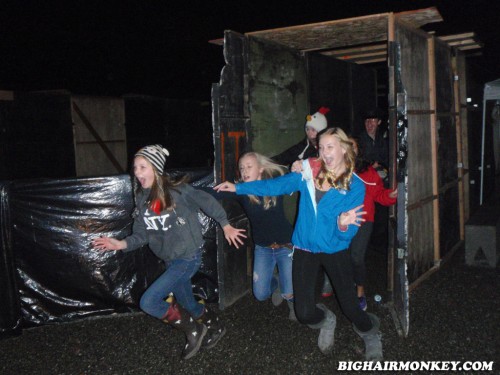 It always feels weird making follow-up posts to the Haunted House in November, but then, future internet searches (regarding what happened in previous years in order to gain new ideas) don't really care about the "when" a post was posted, but more, the "what" of the post.  Mostly though, these types of posts help me remember what worked and what didn't work in a given year so we can do better the next year.
The anchors for the long hallways were a massive success!  Great stability!  Really happy with that solution.  We will probably invest in a couple more of those next year as a result.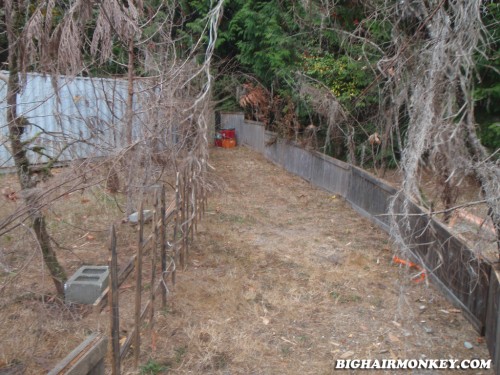 Last year's werewolf forest and psycho trailer worked so well that we re-routed the forest this year to lead THROUGH one of the shipping containers, which we converted into a spider's lair.  A 7' circular entrance narrowed to a 4' exit as customers travelled through the spider and web covered lair, creating a claustrophobic result similar to being encased in spider webs – the walls and roof closing in on you and causing you to duck and crouch by the time you exited in order to avoid collision with the mass of spiders, egg sacks and spider webs adorning the interior.  Our webcaster worked magnificently in sheathing the interior walls in hot, glue webbing, while the black lights made it all "pop" visually and played havoc with customer depth perception.
We roofed the switchback hallway and sprayed the walls with expanding foam and luminescent paint, so along with strobes, black lights and a booming box, it made for a crypt-like feel at the end of long, dark, outside hallway.  It worked well to break apart people that clung to one another as you had to walk through it single file, and was a great place to hide maze runners and other staff.
The only problem we found was that a group of frightened people, walking single file through a narrow, hallway will NOT progress when they hear the chainsaws fire up in other parts of the maze that echo through the roofed off switchbacks.  We had a couple of "people log-jams" as a result, and on at least three occasions, people broke through the staff exits to get out into the "behind the scenes" areas, and we had to chase them back into the maze to get them to exit the place!  Always made me laugh, but it was always a massive exercise of herding frightened cats in a thunderstorm.

We had a room with four doors, each door offering an exit, with only one being the real exit.  This worked well in that you could get a group to go through the wrong way and be chased back out by a chainsaw wielding psychopath, but then they were loath to open any other doors and would rather do nothing than take their chances with another door.  At one point, a frightened customer ran out a door, dragging her girlfriend with her and accidentally slamming her face first into one of the open doors as a result!  *OUCH!*  Our final solution for this was for tour guides to open the other doors as people would run for ANY exit once the chainsaws fired up!  Unfortunately, this also tended to split groups, and at one point, a group of 7 teenage girls locked themselves in one of the dead-end rooms for 15 minutes before I climbed over the wall and talked them into coming back out.  Again – hilarious, but problem causing when you're trying to get 100 people through the place in 2 hours.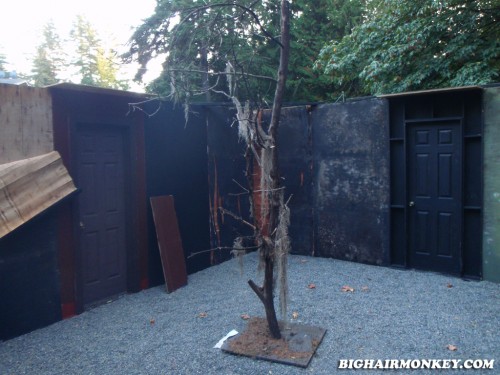 Our zombies and clowns were (again), awesome!  Hours of volunteers working in the cold and rain!  Thank you!!
We had an idea for a "feral cat" which utterly bombed.  Last year when I was working on the house at 11pm, being the only person in the place, I propped a door to the workshop open while I was out working in the zombie graveyard.  I came in to lock the place up, only to have a blur of screaming darkness crash past my ankles and continually throw itself at the door, howling and screaming.
I screamed back.
A lot.
Eventually, I realised that some feral cat (or someone's local pet), had wandered into the workshop looking for food or because it was warm, and was trying to get out after I'd closed the door.  I spent the next 40 minutes, running around the house, trying to get it out, propping doors open and herding it in a general direction, only to have it reverse, and have to hunt under things on hands and knees at midnight in the house, hoping the cat didn't come screaming past and attack my face.
So this year, we created our own "cat" – a plastic cylinder, filled with gravel and glass and covered in thick fur, tied to a rope so it could "run" down the long hallways TOWARDS an oncoming group.  The idea was to recreate that primal fear that pumped adrenalin through my system on the night last year.  But, our house is too loud with chainsaws and boom boxes, so you can't hear it approach; it's dark in the hallways, so you can't see it approach; and unless it touches you, it will pass you without anyone noticing.  FAIL.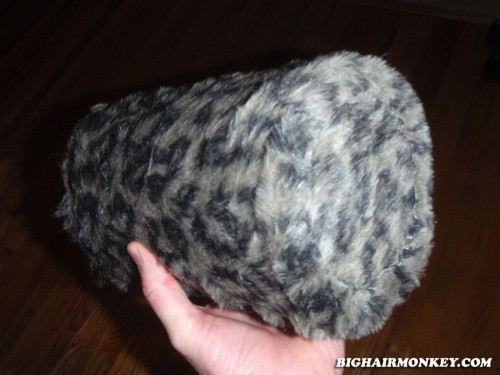 What did work, though, was to attach black styrofoam tubing at knee and elbow heights throughout the hallways and switchbacks that people would randomly brush up against.  It moved and "gave", and didn't necessarily hit the person in front of or behind you, so you'd jump and others had no idea why, but would instantly react as well.  Cheaper; no one had to operate it or reset it like the "cat"; and the impact on the crowd was definitely noticeable.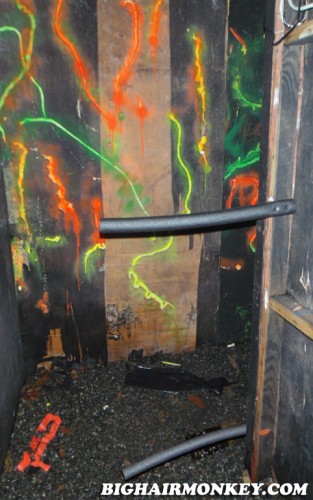 By far, the best "prop" of the house for scaring people this year was four volunteer statues that randomly moved.  Four people, completely dressed in a costume from head to foot so you didn't know if they were real or mannequins, which stood at various places in the maze – only one of them would move for a given group.  So if you came through a second time, and were warning your friends that "the pumpkin guy" was going to jump out at you, it wouldn't – but the dead girl that didn't move the first time, would.  BEAUTIFUL!  We caught even the hardest cynics with these guys, and they easily had a 100% "kill rate" for any given night.
Hot on their heels was our 12' stone golem.  This costume was actually a backpack that you could strap on, with a giant head that extended above you and massive arms that worked via metal frames to reach out well past your own arm length towards people.  We had "the statue" seated on a massive wooden throne, surrounded by pumpkins as you entered the maze.  Tour guides would point out the pumpkin offerings made by local villagers who had to pass through the maze to keep them safe, and since we didn't bring a pumpkin, one "volunteer" from the group would need to beseech the stone golem on the group's behalf to keep us safe as we passed through.  Volunteer approaches (hesitantly, awkwardly or cynically – usually to much heckling by their companions); makes some kind of request for the safety of the group; stands to leave; and suddenly, the golem comes to life, roaring and grabbing at them.  If they didn't jump – multiple people in the crowd always did.
 Another good year!  Once again, glad it's over!  Some cool new things worked really well and others didn't, but we ended up with some new ideas to try next year.  It'll take us a week to tear it all down and pack it away depending on the weather, but nice to have made it through another year.
Eventually I discovered for myself the utterly simple prescription for creativity: Be intensely yourself.  Don't try to be outstanding; don't try to be a success; don't try to do pictures for others to look at – just please yourself.
~ Ralph Steiner
Tags: Haunted House
Posted in Social Stimulus
Tuesday, October 30th, 2012
Jack-O-Lanterns for Halloween are getting more and more creative each year!  The carving techniques are being perfected, and with the internet, they are becoming more well known, so the more popular pumpkins get put into practice by others.  The idea of using pumpkins to create scenes and characters is also becoming more popular and has some pretty funny results.
I've always liked the tiny, little pumpkins and thought they'd make cool Halloween pumpkins.  Years ago, I took one from the lobby of my work where it was part of a decorative cornucopia and carved it into my first tiny jack-o-lantern, much to the annoyance of Human Resources.
So when I saw images of the tiny pumpkins with vampire teeth, I had to try it out!  There were a couple of different types of squash that caught my eye when I picked out my tiny pumpkins, so I snagged them also and loved the resulting Alien looking pumpkins.  The skins are tough, but the insides are fragrant and smell more like pumpkin pie than the larger ones (a nutmeggy, spicy scent).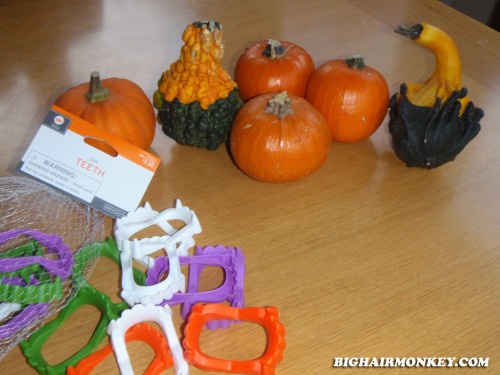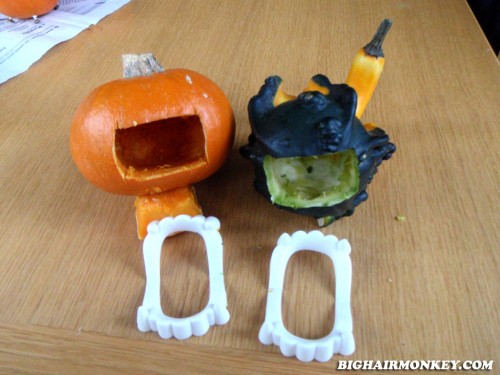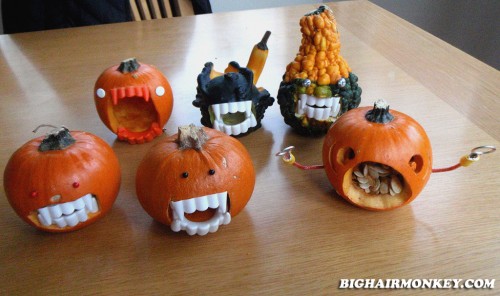 I found this Lumina Pumpkin and wanted to do something with it as well.  It reminded me a bit of the Isz from Sam Keith's The Maxx, so that's what I carved it into sans feet and hands.  An Outback Isz eating other pumpkins makes me chuckle.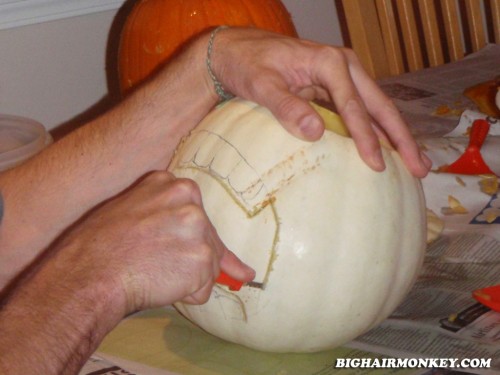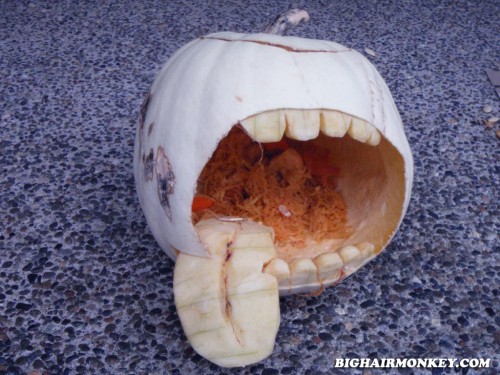 The final pumpkin to catch my eye was a Turban Pumpkin.  These things already look like their brains are spilling from the top of their heads!  I was surprised to find that the brainy part also has pulpy insides, and can be hollowed out.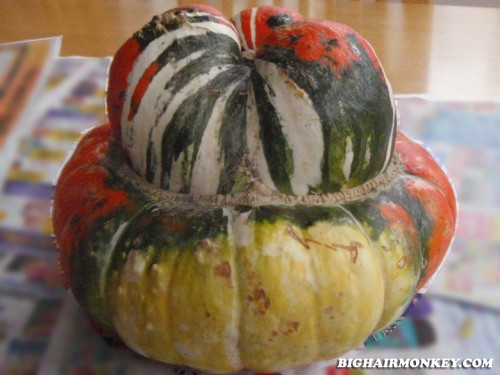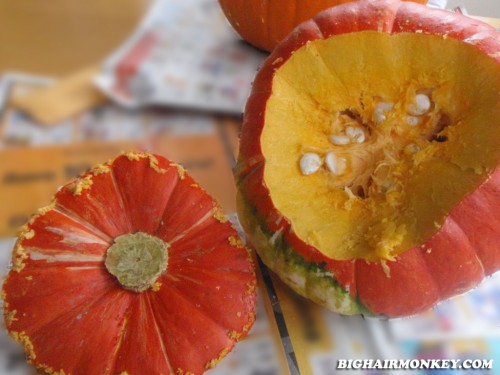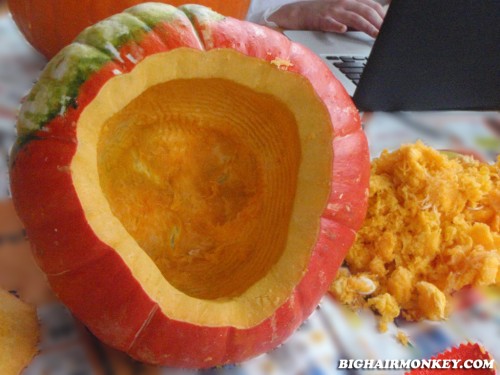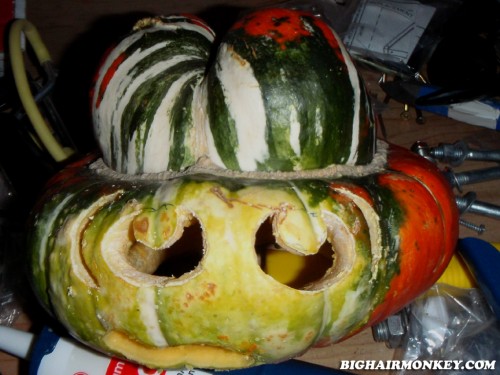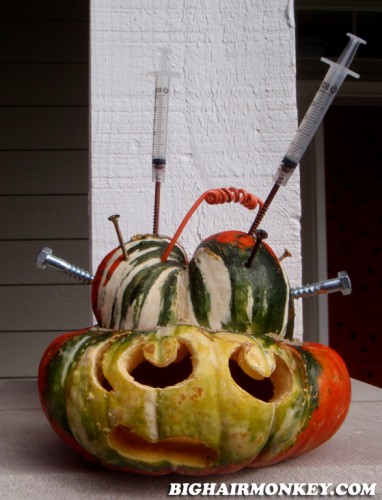 Of the "normal" pumpkins, this entrance & exit wound pumpkin made me chuckle.  Bullet hole entry wound on one side.  Explosive exit wound on the other.
Posted in bighairmonkey, Inspirational, Social Stimulus
Friday, October 26th, 2012
What's the past tense of Autumn?
My rant on my displeasure with the oncoming season must have triggered the last nerve on Mother Nature's temperament as a windstorm blew through the area late the other night and completely annihilated all the long hallways we had setup so far.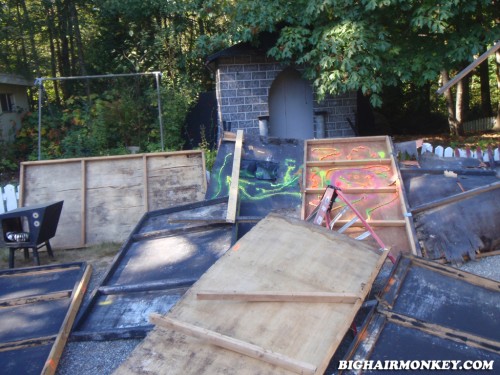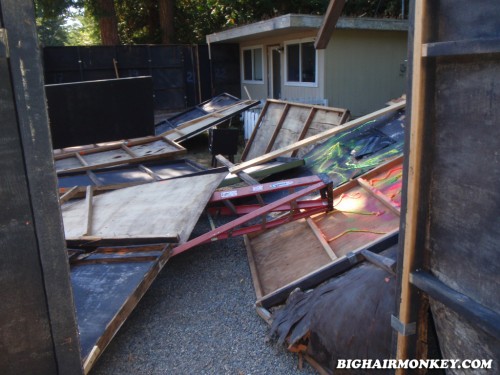 Not happy Jan…
At least I can take some tiny satisfaction in the confirmation of my thoughts on the stability of narrow hallways versus rooms as none of the rooms were destroyed in the storm.  We've got a couple places designed with switchbacks that will add to the stability of those hallways, but we have to figure out a better way to stabilize the single, long hallway that allows it to take wind shear in both directions.
Since the Buffy Stakes didn't work out with our concrete-like ground, I had to use some nine inch nails (yes, they actually exists outside of the band), and rig some 2×4 blocks to anchor our angled braces.  You drive the nails through the blocks into the ground with a sledge hammer, which holds the 2×4 blocking securely in place (and deals with our concrete-ground issue), which in turn provides both compressive and tensional support for the wall panel via the diagonal bracing.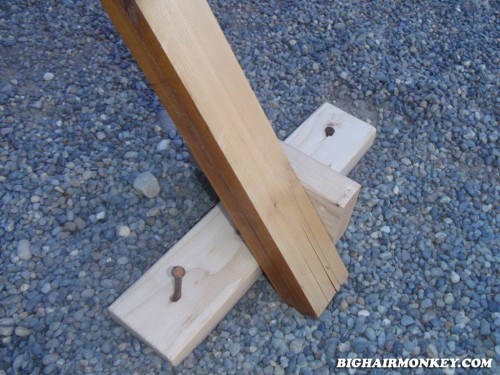 We then ran a couple of 2×3′s in 8′ lengths along the length of the panels and above the hallway, securing panels together laterally (reinforcing the c-channel braces we've been using throughout the house) and also securing the opposite wall to use a single anchor brace.  It means that the long hallway is going to stay a long hallway, but then, our original design 2 years ago for moving around wall panels has never really seen much use – once we build the maze, we tend to keep it that way.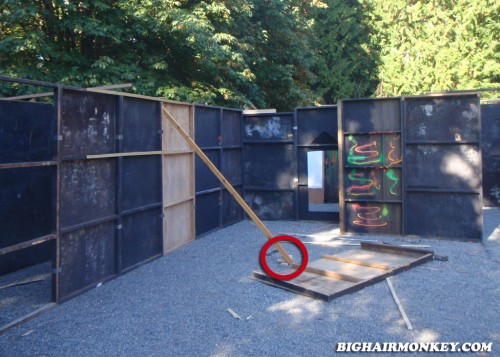 Nice that we figured this out BEFORE we had people in the maze!  Need to complete the layout and then start laying power for lights and stereos and figure out which areas need roofs to protect our crew from long periods of being outside when it decides to rain.  The fun never ends! *grins*
To succeed, put yourself in a position where failure is publicly embarrassing.
~ Neil Davidson
Tags: Haunted House
Posted in Social Stimulus
Tuesday, October 23rd, 2012
The days may not be warm, but at least they're bright and sunny.  So we decided it was a good time to take advantage of the dry weather and pull all the Haunted House panels and props out of the shipping containers to let them air out, dry out, and do a general inspect & repair on things.
16 panels needed to have the front plywood replaced.  Each year, we have to spend a bit on repairing panels and fixing broken props or adding to our inventory.  This usually runs between $250 & $400.  We decided to spend a bit more this year and pick up some better plywood (that is a bit more weather durable) for repairing the broken panels.  The new panels are a bit heavier than the older ones but will hopefully bear the weather and storage a bit better.  So eventually, we may not spend so much on repairing panels.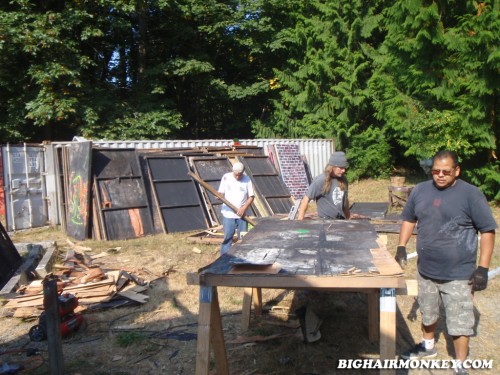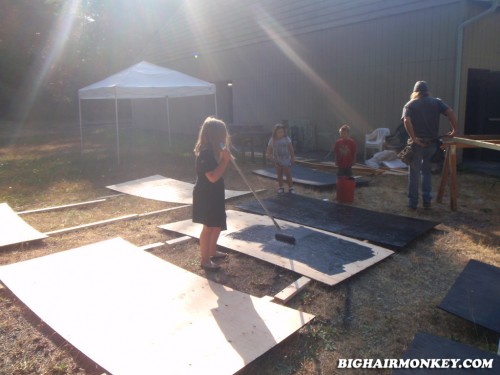 Our volunteer list so far this year is a bit lighter than the previous years – some of our teenage volunteers have graduated high school and moved on to college or moved away, so our layout this year has fewer large rooms in the maze.  Plus, the long, narrow, claustrophobic hallways worked so well last year that we decided to implement a couple of switchbacks to confuse people and get them turned around.  More interior walls means more panels, and we build an additional 13 from scratch.  Panel count on this year's layout for the house: 173.
We get the front façade and a room or two assembled so we can start setting up the long hallways.  The bonus of having rooms is that they are structurally more stable than long, narrow hallways.  Rooms are "blocks" of stability that you can attach panels to and not worry about them shaking in the wind.  Hallways are narrow and tie in to nothing, so they are extremely wobbly until you can reinforce them to another right angle wall or room.  This isn't always possible on the long sections of the hallways.  We cut out some massive wooden stakes that would make Buffy the Vampire Slayer's pulse quicken.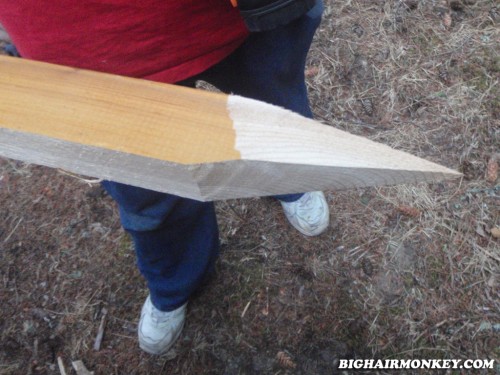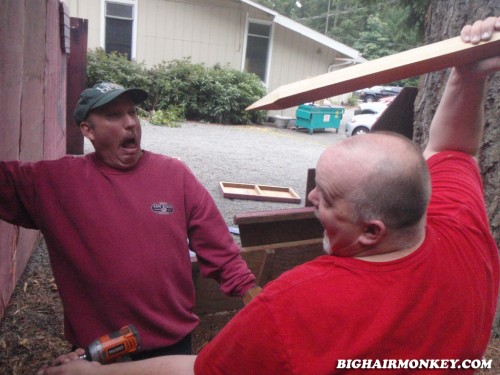 We quickly find that years of parking cars on the gravel parking lot have compressed the dirt into cement, and most of the stakes don't get into the ground very far before splitting, so we call it quits for the day to refigure a way to support the hallways.  All in all, a great start to this year's build!
What we all want is to be valued members of a winning team on an inspiring mission.
~ Graham Weston
Tags: Haunted House
Posted in Social Stimulus