Throughout my life, the kitchen has long been the centre of socializing in my family.  As a kid, we rarely asked if friends could eat over – anyone that was there at mealtime got fed.  Long road trips to visit my parents that ended at 1 or 2am would usually also end with the fragrant smells of something delicious wafting from a warm kitchen.  Eggs, bacon and pancakes for dinner or apple pie for breakfast, what we ate wasn't always dependent on the time of day.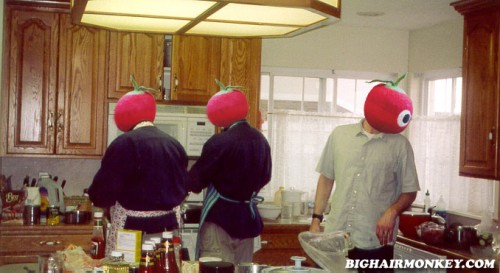 Pizza, though a long standing Italian treat, didn't hit the west coast of the US until the 1950's, when GI's, returning from World War II who had sampled the food in Italy, created a demand for it.  My dad, while dating my mum, worked at a California pizzeria called Big Al's and would often take an unclaimed pizza at the end of a late night shift over to the dorms where the women running the front desk were always willing to call my mum down to the lobby in exchange for some pizza.
So knowing these facts, it's not a surprise that pizza has been the "go to meal" of our family traditions.  Over the years, it's grown from a Friday night dinner to a full-on entertainment session – I still remember making pizzas one night with my dad and brothers using two ovens to turn out over 30 pizzas, each one different than the previous, and each one served hot to a waiting crowd of friends and family, packed in at my folks' house.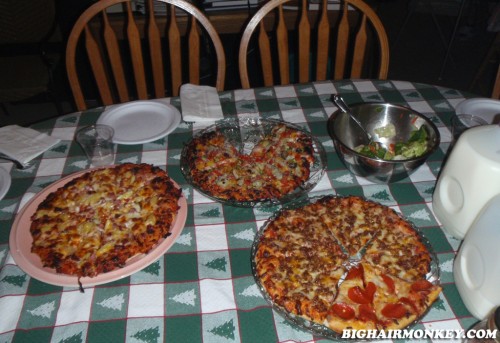 Over the years, my dad has streamlined the process, creating his own variation on the original dough recipe to ensure we can have pizza, from first thought to hot out of the oven, in under half an hour.  If you don't have a pizza stone, the baking process takes a bit longer (unless you like soft-crust pizza), and if you have your own family recipe for pizza sauce, that may also affect your time.  But for those that love pizza or are just looking to impress someone with their cooking abilities, I present my dad's quick and easy way to make pizza! (note: the quickest and fastest way really is smearing tomato paste on a toasted English Muffin.  But honestly, you're not going to impress someone as much as you are by making pizza dough from scratch and baking a pizza in less than half an hour!  Plus it tastes better…)
Oven Prep
The first step is the pizza stone.  At the first thought of pizza, crank up your oven to 550ºF (~290ºC), and place your pizza stone on the middle rack to warm up with the oven.  You'll want it to preheat for at least 20 minutes before you bake your pizza, but that's fine since it's going to take 10-20 minutes just to make the dough.  If you're not in a hurry, the optimal pizza is baked on a stone that has been in a 550ºF oven for half an hour before it's used (but be sure to decrease your cooking time).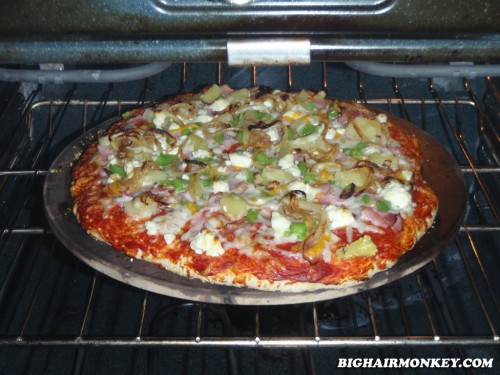 Pizza Dough
Bighairmonkey Sr's pizza dough recipe is streamlined for making pizza on short notice; for multiple batches when more people show up; and to be relatively easy for the cook to prepare:
5C flour
2Tbs dry yeast
2Tbs sugar
1 ½ tsp salt
2Tbs olive oil
2C hot out of the tap water
Put the dry ingredients in a food processor and turn it on (if you don't have a food processor, use a dough hook in your mixer, or mix it all by hand in a large bowl).  Add the oil, and slowly add the water, processing until the dough forms a ball (you may not need all the water).  Dump the dough (it will be soft and sticky) onto a floured board and knead it a couple of minutes until it becomes more elastic and less sticky.  Cover with a bowl or put in a greased bowl and cover with a towel.  Let it raise for 10-15 minutes (depending on how warm your environment is) or until it doubles in size.  Then punch it down, and roll it into pizza skins, either by hand or rolling pin.  Makes 2 large pizzas.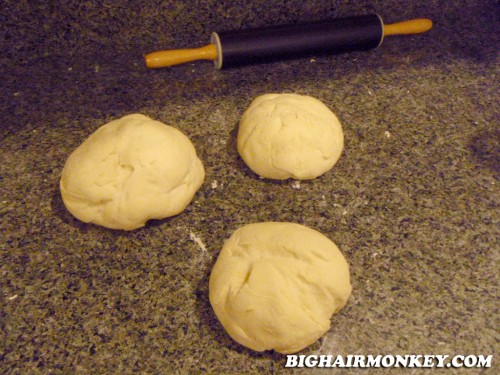 Pizza Sauce and toppings
The fastest option is an out of the can/jar pizza sauce.  My dad's pizza sauce was merely tomato paste, tomato sauce, salt, pepper, dried basil, and fresh garlic.  We have also used ranch dressing, olive oil, Alfredo sauce, BBQ sauce, sweet chili sauce, white sauce, teriyaki sauce, and naked (no sauce).  Try them all – decide for yourself what works best.
The classic American pizza is topped with grated mozzarella.  There are plenty of choices and combinations that give better flavor.  Provolone and cheddar are great to add to mozzarella, although the mozz should dominate (we usually run 4 parts mozz – 2 part prov – ½ part cheddar).  Pizzas in our past have also used parmesan, feta, gorgonzola, fontina, and various Swiss cheese types.  Again – try them all and decide for yourself (personally, I'm partial to feta – yum!).
Assembly
Our basic premise has always been as follows:
Roll out the dough (my dad would usually press it into shape by hand; roll it with the pin to enlarge the shape; and then throw it for the final sizing)
Hide the dough in sauce
Bury the sauce in cheese
Add toppings
In Australia, the cheese is put on last to hold everything in place once it's baked in the oven.  Both styles taste great!  I'm not going to go into details for toppings as anyone that has any basic knowledge of a pizza can come up with a pizza they enjoy.  However, once you get past your basic pizza knowledge, experimenting with toppings and sauces is essential!
Gorgonzola with walnut & pear
Blue cheese and caramelized onion with bacon & toasted pecans
Cream cheese, smoked salmon & leeks
Just to name a few of my dad's favourites!
After you roll out the pizza skin, transfer it to a baking paddle or thin baking sheet without an edge or lip that has been lightly coated in cornmeal (or cornflour).  Once you've assembled the pizza, you can slide it easily from the sheet onto the pizza stone in the oven without it sticking and dropping all your toppings onto the oven floor.
Bake at 550ºF for ~8 minutes.  This may vary depending on your sauce or toppings, so keep an eye on it after the 8 minute mark and decide if you need to bake it longer.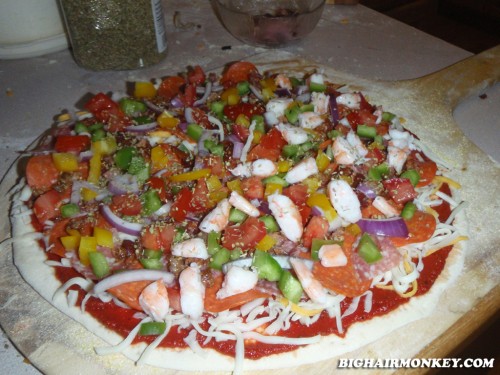 We have always baked more than is needed, resulting in cold pizza being one of our stapels for breakfast or lunch over the years.  This was not only based on the idea of the "feed who's here" principle mentioned earlier, but also on my dad's personal belief that you hadn't fixed enough food in the first place if a meal didn't have leftovers.
So there you have it!  Bighairmonkey's family recipe for quick, awesome pizza!  Make them tonight and impress someone with your pizza awesomeness!
Food for the body is not enough.  There must be food for the soul.
~ Dorothy Day

Good food is a global thing…
~ Jamie Oliver