Spoiler alert:  This post contains spoilers for the Z Nation Season 1 Episode 01, "Puppies and Kittens", which aired Friday, Sept 12th on the SyFy Channel.  It's also a very long, and probably very boring blog post.
For starters, Z Nation ep101 didn't contain a single puppy or kitten – it's just a term used by Kellita Smith's character, Warren, to describe zombies.
The coolest thing for me about watching the episode (other than catching glimpses of me and other extras I got to know on set) is to finally see everything coming together!  As an extra on the set, we don't get copies of the script, the shooting schedule, or the call sheet – we just show up when and where they say and do as we're told.  And since an episode is shot in parts and pieces by multiple camera units and put together into the final episode in post production and editing, we're really in the dark as much as first time viewers (except for the occasional spoiler in which you're involved as shooting for the series progresses).
The casting agency calls, emails, or texts (usually all three) about four days before you're wanted on site to ensure you're available.  But you don't find out what time you are to be on set or where shooting is to occur until about 10:30pm the night before.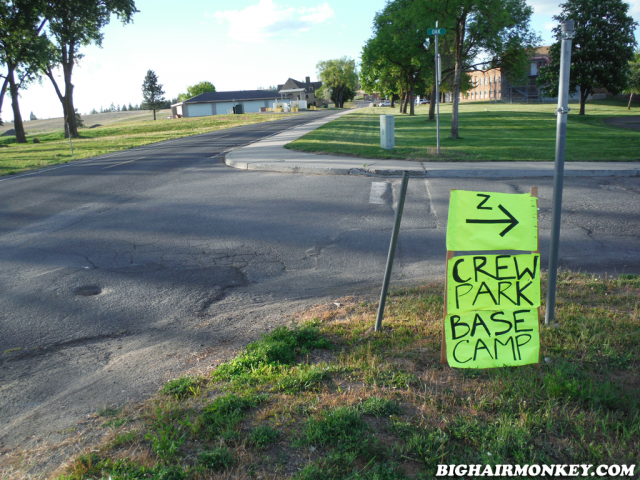 The first day of shooting for Z Nation ep101 was Monday, May 19th in Medical Lake, just west of Spokane.  My call time was 7:45am, and when I wander in at 7:30, there're already three guys done up in full zombie makeup: massive head wounds and facial damage, and latex buildup/prosthetics.  I later learn these guys (Ron Starlynn, Brandon Arleon, and Kevin) are "Hero Zombies" – zombies who get closeups, or their heads blown apart, or something equally gruesome.  Regular zombie extras come to covet a Hero Zombie role 'cause it not only means some possible prime air time, but more importantly, that you get to either eat someone or be killed in a gruesome manner – the pinnacle opportunity for a zombie extra (I mean, why else would you want to be a zombie in a zombie film if not to eat someone or die horribly??!)!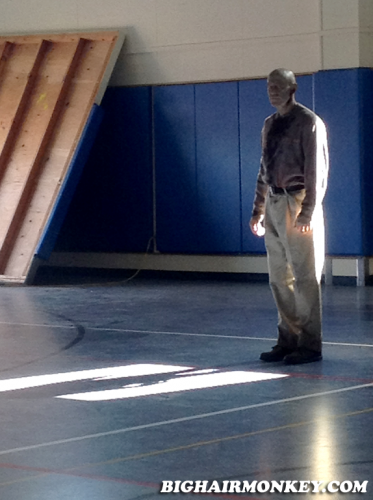 I check in with Jennifer Gatts, the Zombie Wrangler (the onsite person responsible for all the extras), fill out a bunch of forms ("Are you allergic to corn syrup?  Are you willing to wear contacts or full eye covers?" – Yes!), and then wait while others trickle in to the gymnasium where we're all hanging out.
Lots of waiting.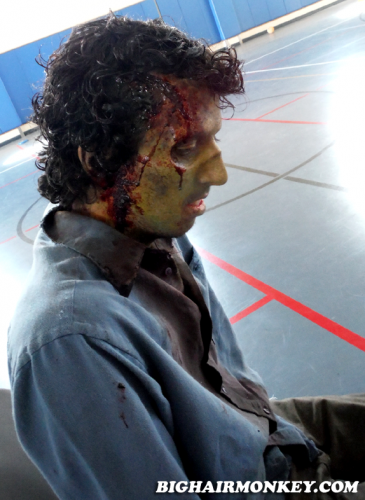 Throughout the morning, extras are called out to wardrobe and makeup, and reappear in full zombie gear.  The excitement and buzz slowly builds.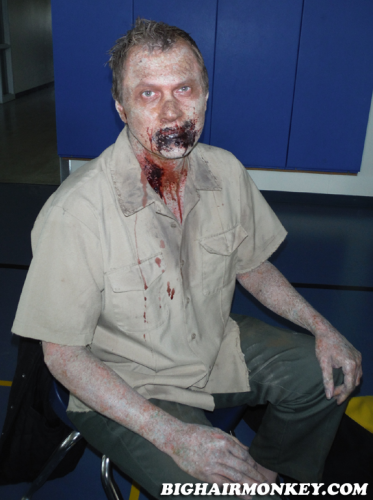 At 9:40, I get called to wardrobe (shirt, pants, and shoes), change, and go back to waiting.
An hour later, I get called to makeup.  There's a long, air conditioned trailer that seats four or five people while makeup artists work on each one.  Corinne Foster ("It's pronounced 'Corinn' – Don't call me Coreen or I'll punch you in the dick!") of Synapse Fx is the lead makeup artists and starts applying makeup with a giant porous sponge in layers of green, blue, yellow, and brown – layer after layer across the face, neck, hands and arms.  Once she's got the overall effect, they take me outside and spray me down with a sealant, so the makeup doesn't rub or wear off during the day.  Then it's back inside, and over to Shawn Shelton for battle scars!
"Your hair is too nice!" he tells me, "Too fine and short which makes it hard to muck up!"  He decides to hide it all with a massive head wound that drips down the front of my face.
Awesome!
The blood is a red dye mixed with corn syrup and something to help it set yet still remain flexible.  Shawn applies it with a tongue depressor and slathers it over my head, down my face, dripping from my ears, and mouth.  Throughout the day, the makeup crew runs around with squirt bottles filled with a thinner version of the stuff that they use for touch ups and to darken your teeth before a scene.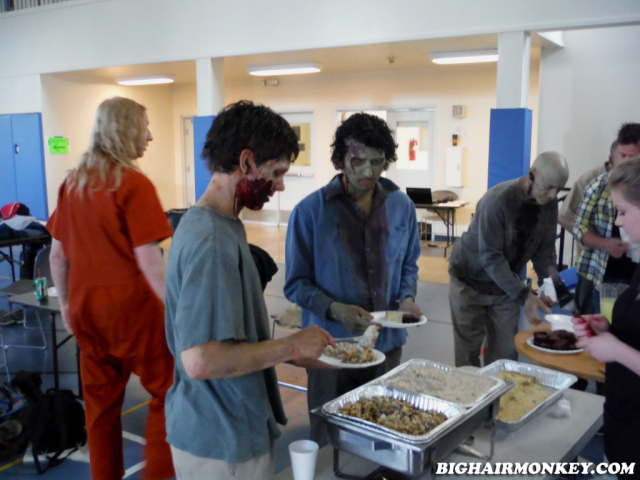 By 11:30, I'm done and back in the gym in time for lunch.  Zombies that had been out filming earlier that morning arrive on a bus – there are about 14 of us in all.  The catering crew puts out sandwiches and salad and a MASSIVE plate of brownies which never seems to run out.  The brownies are AWESOME!  Chocolatey chocolate fudge brownies with chunks of chocolate… I eat two, and when it's apparent no one else is having any more, I makes a move on them and eat another dozen.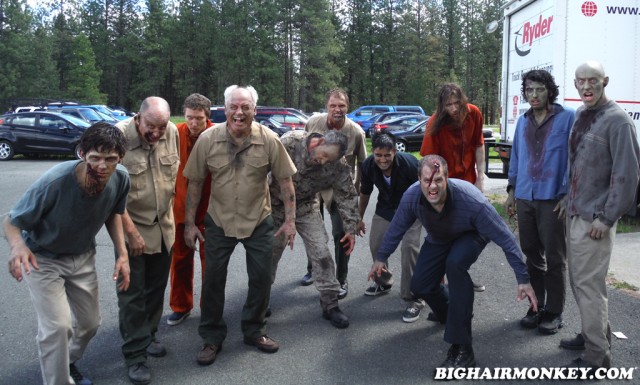 Half an hour for lunch.  Those that were filming prior to lunch hop back on their bus, and the rest of us jump on a second bus and drive out to a site with the 2nd camera unit directed by Juan Mas and Jade Warpenburg.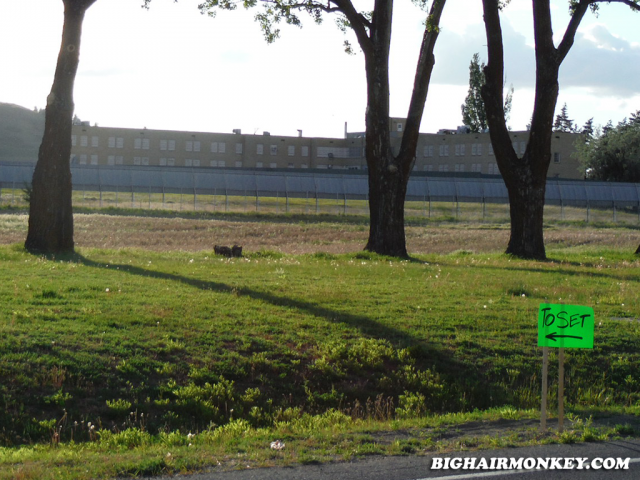 For the next 2 ½ hours, we march, shuffle, run, trample, moan, groan, and pace zombie-like up and down fields, through courtyards, across playgrounds, and over dirt mounds.  Juan runs us through a shot, and then immediately resets us and runs it again because the sun has suddenly ducked behind a cloud to give the scene different lighting or a long shadow is now cast across a piece of playground equipment that he thinks would give a cool effect.  He mixes up the order in which we are arranged, and takes close ups of feet and hands and bodies passing close by the camera.  "You see," Juan explains with a grin when one of the extras asks what it is we're doing, "if we film a credited actor in episode 1, and then reuse that footage in episode 2, we have to pay them twice.  But with extras, you signed away all your rights, so we can film you and then use you for commercials, opening or closing credits, digitally put you into a scene that needs more zombies, or whatever, and we only have to pay you one time!"
While you might feel ripped off to hear this in a normal job, as zombie extras, we all pick up on the word "commercials" and brighten up a bit with hope!  One of the guys among us is the only one wearing the bright orange jumpsuit of a convicted criminal, and he is ecstatic when Juan points out that "pretty much every time you see a zombie horde marching through a field, you'll know that the one wearing orange is you!"
This idea of reusing zombies occurs a LOT in Z Nation.  If you look carefully you see Alex Terzieff and his stunt crew reappearing all throughout episode 1 – he's the zombie in a yellow shirt that sticks his head out of the bus as it passes, and then chases Addy, Mack, and Doc up the hill.  He's then fourth zombie on the right, waiting for them at the top of the hill, who then gets hit by the truck.  And he's the second zombie into the room after the zombie soldier attacks the doctors.
Around 2:30 Juan gets a call to bring us all over to the main site, and the excitement levels climb.  We drive to an old psychiatric hospital and march up three flights of stairs and pause at the top to wait while they film Harold Perrineau hunting around the floor and kicking through trash.  You can see these scenes at the end of the episode when Harold's character, Hammond, is hunting down the zombie baby.  At the time, we had no idea what he was looking for.  That sequence was filmed at two locations – one with patchy walls, and ours with the green striped walls.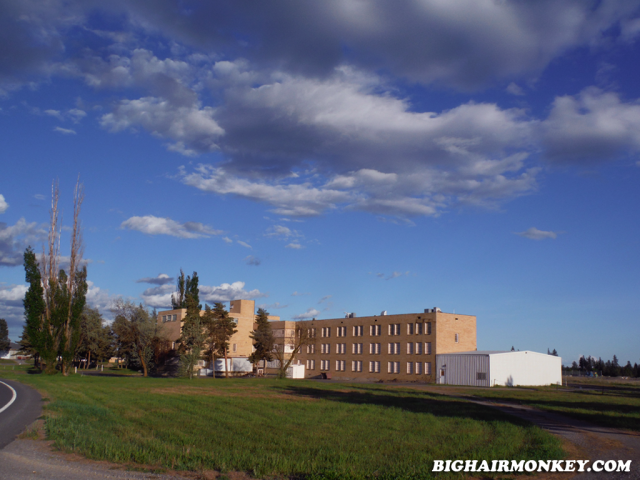 Harold retires to the temporary "Green Room" ahead of us, and as we file past, he nods to one or two of the zombie extras who shout out to him and wave.  An assistant director (AD) tells us "don't talk to the talent!" and directs us into a room further down the hall that is stacked full of industrial office furniture.  As we are shuffling in, someone walks up and says, "I need 6 zombies", and then grabs the last six guys in line (Ron, Brandon, Sean Dunn, Donald, and 2 guys whose names I don't know ) before anyone can volunteer.
The rest of us join the zombie crew that had been out that morning, and we start comparing notes:  "What did you guys film?" they ask us, and we fill them in on our marching.  Most of them say they've just been "standing around all morning", except for one of the guys that was strapped to a hospital gurney.  I realize that the opportunity to get on camera just left with the six other zombies, and I slowly wander out of the room and back down the hallway where we entered.
I can see the other guys down the hall, getting directions, and I have it in my mind to casually wander down and join in the group when a voice to my left asks, "How's it going?"  I hadn't noticed the guy standing there, so I'm a bit startled and say, "Hey…  What's your role in all this?"
"I'm an Assistant Director." He says.
"That sounds cool – what do you get to do?"
"Mostly, I just keep zombie extras from wandering into shots they aren't supposed to be in."
Bummer.
"Sounds like a pretty boring job." I tell him with a grin, and he allows me to stand next to him while they film the scene off in the distance.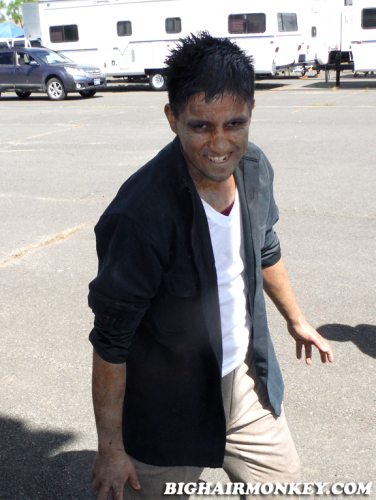 Watching the episode, I realize this is the scene where Murphy, played by Keith Allen, is strapped to a gurney and can't escape as the zombies flood into the room and start to eat him alive!  "DON'T LEAVE ME TO THE ZOMBIES!" we hear him scream from down the hall.  "PIKE ME!  PIKE ME OR I WILL HUNT YOU DOWN AND EAT YOUR BRAINS MOTHER FUAAAAAAUGH!!"  And then the zombies push into the room.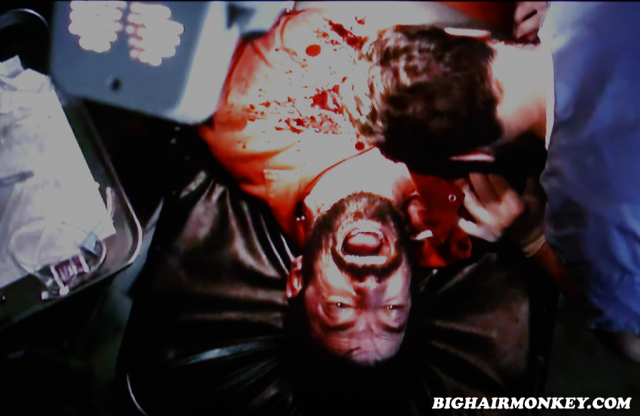 They reshoot this scene thirteen times.  Around the sixth retake, the AD comments, "You can hear his voice fading – they should have gone with one of the first three takes, but they will probably grab sound bites of his voice from the first couple takes, and edit it along with the shots they want for the final scene."  He's right.  By the final take, Murphy is only screaming obscenities much quieter than the original take, and the zombies burst into the room almost immediately.
With that, the zombies file down the hall, and I join them back in the room with everyone else where we wait for an hour, doing nothing.  Most of us catch quick naps while we can.
Around 3:30, they wake us all up and take us down the hall to walk thru the next scene.  This turns out to be the opening scene of the episode where Hammond and Valdez are chased down a hallway by fast zombies, and slam a prison gate shut, firing into the horde and keeping the zombies at bay.  First Unit shoots Hammond and Valdez a dozen times – camera following them, camera leading them, still camera that they run towards.  Then, Alex (who is not only the stunt coordinator for Z Nation but also one of the nicest guys you'll ever meet) walks us through our scene – hero zombies (Ron, Kevin, and Brandon) are put at the front of the horde, and then they arrange the rest of us in two lines to the right and left of the camera.  "Let me get the two tall zombies up front as well – you, and head wound."  We film the same scene a couple more times, the zombie horde flowing around the camera in pursuit of the actors, before they change camera angles, and film us a couple of times running into the gate and smashing/pressing against it to get through to the actors on the other side.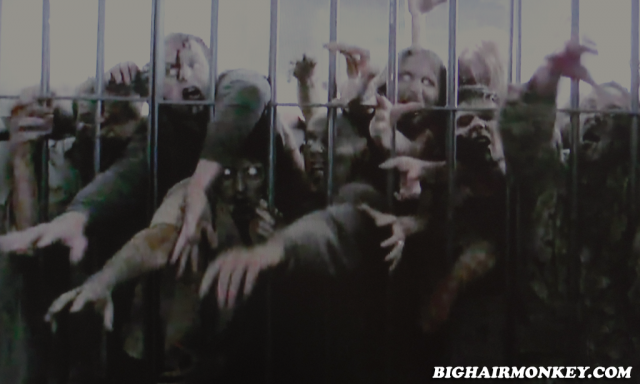 Prior to each "ACTION!" call, the makeup crew walks around with squirt bottles of "blood".  You pull out your lower lip; they squirt some in; you swish it around like mouthwash, and then burble it over your bottom lip to let it drool down your chin, your neck, and onto your shirt.  The syrup is rootbeer flavored which is okay with the first couple takes, but by the 50th or 60th shot, we all get really sick of it.
We film a front-on shot of the zombies trying to get through the gate for 15-20 minutes solid, no break.  My jaw is sore from growling, and my arm that reaches through the gate no longer has any feeling in my fingers 'cause everyone(understandably) wants to get on camera, so those in the back push forward, mashing those of us in front against the bars.  It makes for an awesome visual effect of zombies wanting to get their potential victims, but it gets a bit claustrophobic.
Still, we keep growling and reaching and gnashing our teeth.
The camera zooms in for close-ups, and as it pans away from each of us, we take a second to stretch our faces and hands and arms to get blood flowing again before it pans back on us, and we kick back into zombie mode.
Ron as the hero zombie in this scene drops to his knees when he gets shot.  The special fx team replaces him with a mannequin that has a head painted to match his makeup.  One fx guy holds up the head and works the jaw from behind while a second fx guy sits behind him, working a tank of blood that flows through pipes into the dummy's head.  They smear Vaseline on the bars, and as the camera rolls, push the zombie head through the bars, the skin peeling away from the skull like split citrus skin while blood drenches what's left of the head as it pushes forward and continues to gnash it's teeth and growl at the camera.  The shot doesn't make it into the final episode, and instead, Ron dies by headshot and is edited out of the remainder of the scene.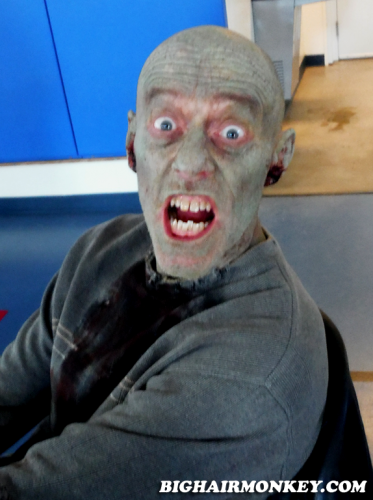 Finally, Alex turns the door hinge pin upside down, showing us how shaking the door will cause the pin to slowly fall out, to show the door slowly giving way to the zombie horde.  Of course, all the shaking in the world isn't enough to get it to repeat the process once the camera starts to roll, and they finally move everyone out of the shot except for three of us to shake the door loose from its hinges.  After three more shots, they finally decide to slide the pin 3/4 of the way out and film the scene from there.  Alex rattles the door from just off camera, while we shake it from the far side, and the pin slides the rest of the way out for the shot.
Just after 5pm they call it a wrap and send us back to the waiting room while they replay everything and decide on whether or not they need more footage.  An hour later they decide they've got all they need, and they send us back to base camp to turn in wardrobe and get cleaned up.
First day of shooting done.
Z Nation has begun!