Spoiler alert:  This post contains spoilers for the Z Nation Season 1 Episode 01, "Puppies and Kittens", which aired Friday, Sept 12th on the SyFy Channel.  As a second disclaimer, I am somewhat biased to the Z Nation franchise having spent my time as a Zombie in the tv series, however, I like to think that doesn't overly affect my opinions expressed below.
To set the mood, I liked this first glimpse of Z Nation.  While it didn't contain top notch writing or acting, it was fun and enjoyable and of a higher standard than we've come to expect from The Asylum.  Closer to The Last Ship and The Strain than Sharknado 2.  It may have had its plot holes, and its moments of being "over the top", but it wasn't camp, and they didn't jump the shark.
I really enjoyed Michael Welch's Mack and Russell Hodgkinson's Doc – not only great characters, but backed up by some really solid acting.  Both actors felt like they already had a handle on their character, and brought that out.  Anastasia Baranova's Addy has potential, but I feel a lot of that is the ability to play off Welch's character.  Sketchy and Skeezy, played by locals Mark Carr and Doug Dawson, made an all too quick appearance, and I hope to see more of them as secondary characters, but given the storyline of travelling across the US, I doubt they will reappear.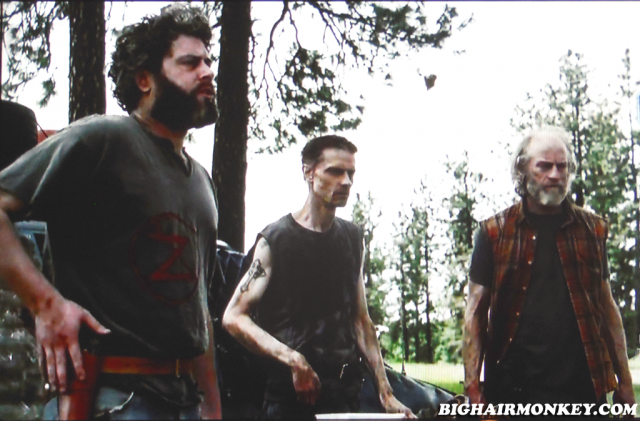 On a behind the scenes side of things, I'm partial to Nat Zang's 10K even though there isn't enough exposure for the character in the first episode to validate this opinion – not only is he a nice guy on set the couple of times I've run into him, but also the character development that occurs in future episodes really fleshes out his character into a great member of the group puzzle.  I thought it was also a bit early to really make a call on Pisay Pao's character given this appearance, but as an actress, she did a good job in her first television appearance.
I think I was hoping for more from the veterans – Kellita Smith, Tom Everett Scott, and Harold Perrineau.  I felt their characters were over-dramatic, but then, that may stem from the expectations I put on them as actors.  Harold would jump in place for about 10 seconds prior to each scene to get pumped up, so his breathy, hurried delivery was a definite decision either on his or the director's part.
The special effects weren't over the top, but had a nice level of zombie gore without appearing cheap.  Zombie extras in episode 1 agreed to possibly wearing contacts, but the episode was filmed without them, and all our eyes were CGI enhanced in post-production.  Same with the blood splatters from gunfire, truck collisions, claw hammers, and the infamous Z Whacker!  I say infamous, because having died by Z Whacker is one of the things that is well known among the Zombie extras on set.  As far as status goes, death by Z Whacker or Claw Hammer ranks WELL above gunfire, yet it's still a gruesome possible ending obtainable by Zombie extras as opposed to something like Death by Automobile which was reserved solely for the series' stunt team.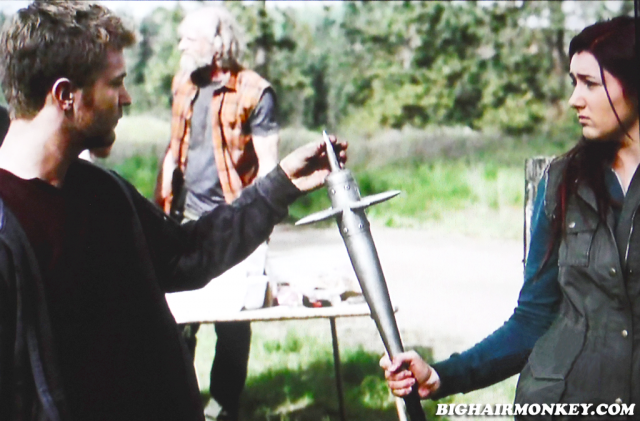 You're going to hear about the plot holes (What made the baby suddenly turn zombie?  Why did turning zombie instantly dislocate and shred the inmate's jaw?), but the plot holes in movies such as X-Men 3 weren't enough to keep me from seeing future X-Men movies, nor keep those films from being better.  Similarly, I enjoyed the first episode of Z Nation enough to continue watching to see how the characters and storyline play out.
Tags: #ZNation