Sunday night was our "kid friendly night" at the Haunted House.  We thought that if we can get young kids (5-8 yrs old) coming through the haunted house, creating a spooky atmosphere without the screaming and chainsaws, that perhaps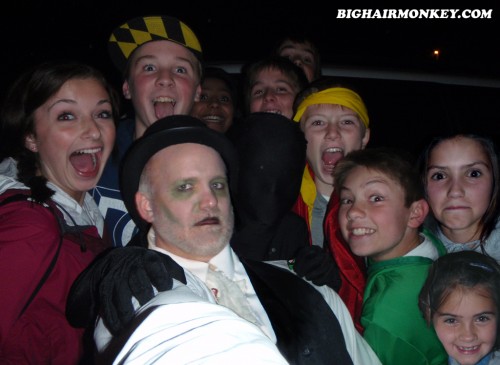 we could begin to interest a younger generation who would look forward to haunted houses and Halloween as they grew older.  Plus, kids never show up without parents or older brothers and sisters who may not have come otherwise, and will most likely pass word around to their friends if it's a memorable experience.
We turned up the lights a bit, cut the smoke machines to minimal, banned the chainsaws & screaming, and briefed the volunteers on toning things down.  We passed out fliers at local elementary schools about a week ago offering a discounted rate to kids 10 & under and promising candy at the end of the tour ("Just like trick or treating!").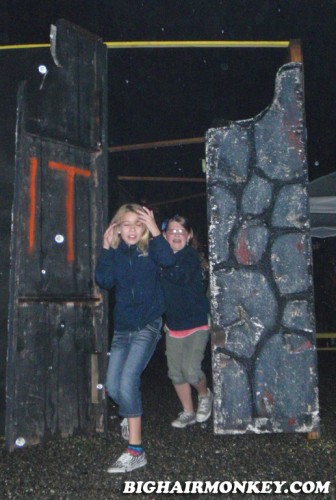 130 kids came through the house in 2 hours.
In comparison, 220 people came through in 3 hours on our busiest night last year.
I'd say the majority of the kids were between the ages of 9 & 13, but we had a number of toddlers and plenty of adults (who were in a "braver" mode than when we've got adults coming through on a regular night!).  The volunteers were a bit "bored" and off-kilter at the beginning, not really sure how to play things, but they quickly learned to read the mood of a given group and tailor their presentations accordingly, and by the end of the night, they were having a good time pushing the boundary between a positive/spooky experience.
Overall, I think it achieved its purpose – we had high interest and attendance, and hopefully, it stirred a spark in some future monkeys for this kind of thing!  Laying a foundation for future freaks!
Tags: Haunted House